Publicity
Publicity
It is always most rewarding to receive compliments on handing over a piece of my work, and even more so when someone writes their comments. I list two of my recent testimonials.
I have recently completed a commission which is shown below. It is a bronze sculpture head of Tony Devine.

Hi Eve
I cannot put into words how pleased I was when the head sculpture arrived in the flesh or bronze as I should say. I could not believe that such a realistic piece of work could be put together from a few photographs.
My children were all blown away by how it looked so much like me and that it had been all taken from a photograph.
I would have no hesitation in recommending your work to anyone who would avail of your skills.
Please ask anyone who is thinking of having a portrait commissioned by you to contact me at anytime for a chat.
Warmest Regards,
Tony
My Eve Shepherd 'trade mark' is a sculpture called 'Alone' in marble resin.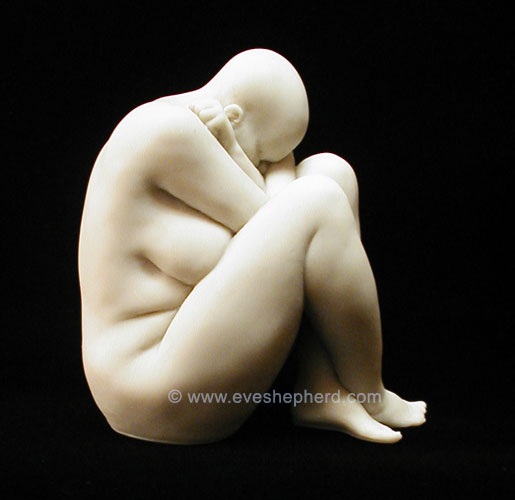 I received a testimonial from Stephen.
Hello Eve,
I would like to say how thrilled I am to own a piece of your work now, and how wonderful and thought-provoking this beautiful figure is.
I see the piece every day and wonder at the detail in the fingers and in the feet.
The sad positioning of the figure itself sets out many questions and one wonders what could have made her thus?
It shows such skill, that something so beautiful could have been created from just your idea.
Thank you so much, I will treasure it.
Stephen
PREVIOUS PUBLICITY:
Latest TV television interview:
Eve Shepherd Sculpture, part of the annual Brighton Artists Open Houses, with Val Aviv
of Latest TV