RSPB Emily Williamson Statue
Eve Shepherd
to sculpt Emily Williamson
Meet Eve and hear her talk about her design
'Emily Williamson's statue has to have longevity, which is why I've put in so much detail, because it needs to tell so many stories.
​From a distance, it's a Victorian woman in a stiff crinoline. Get closer, and you'll see that her skirts are actually a cliff-face studded with vignettes. Owl, heron, grebe, kingfisher… birds once used in millinery, birds that are vulnerable today; also feather workers, eco campaigners… I'd like to use 'augmented reality' technology to bring to life all the stories behind the story. This has never yet been done with public sculpture.
My version of Emily draws together both person and landscape. She protects the birds, women and girls within her care; she is the 'mother of nature'. Visually, the statue will blend in with its leafy surroundings, as Emily's verdigris skirts fade upwards to a warm conker brown. My work is designed to fit within nature and grow out of nature, as if Emily's emerging from her surroundings. She is the conservation story. She's Mother Nature herself.'
On 13 November 2021, Eve Shepherd won the public vote to create the statue of Emily Williamson.
Over 12,000 people from across the world voted in the competition between four short-listed sculptors. Eve was a clear winner.
'I'm honoured to be chosen to create the Emily Williamson statue for Fletcher Moss Park, Manchester and the bird loving community,' says Eve. 'I feel humbled and privileged to sculpt such an important pioneer and eco-activist.
'She was a visionary;  a quiet, yet stoic woman, who stood against the norms of her day. She co-created a legacy, the RSPB – a charity that has saved countless bird lives and protected precious natural habitats for future generations to enjoy.
'In my eyes Emily is a shining beacon of how we can save our fragile ecosystem in these unprecedented times.
Emily Williamson was forgotten by history because of her gender. This statue will be both a triumph and a milestone on the journey towards fair representation of women within public sculpture – though we still have some distance to go. I am delighted and excited to have been selected to be part of this!' 
Selection Committee Chair Andrew Simcock says:
​'We had four high quality entries on this shortlist. We'd like to thank sculptors Clare Abbatt, Billie Bond and Laury Dizengremel for their massive contribution to this contest. 
As I toured the four countries of the UK visiting RSPB reserves with the maquettes, there was tremendous engagement with the designs. Eve's, in particular, was a big hit with children. There was a real sense of their delight as they realised how many birds were present in Emily's skirt.
Many congratulations to Eve and I really look forward to working with her to make this statue of Emily Williamson become a reality.'
​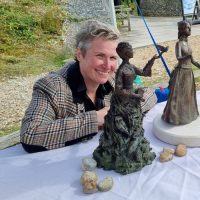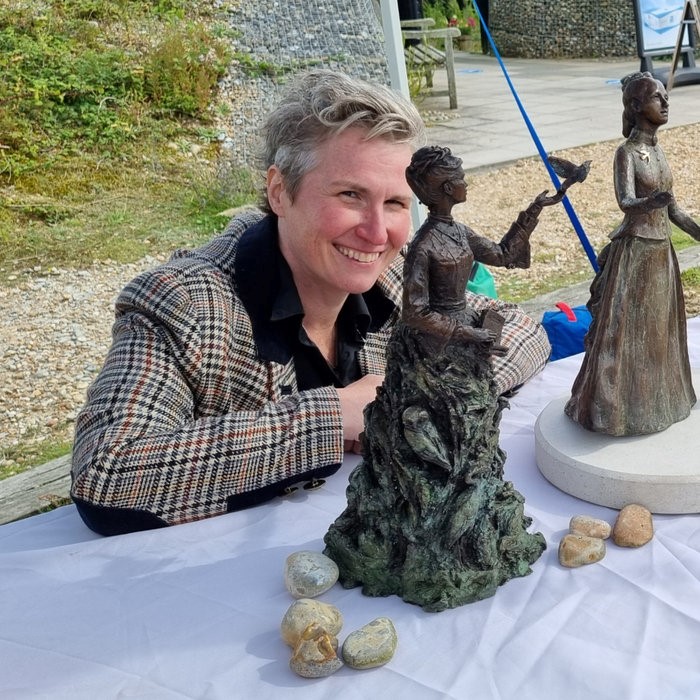 ​Social Historian Tessa Boase, who has done so much to bring this project to life, says:
'Sculptor Eve Shepherd is renowned for the depth of her research, and her iconoclastic approach to public artwork. Her statue of Emily Williamson will be an inspiring monument not just to a woman, but to the beauty and vulnerability of birdlife.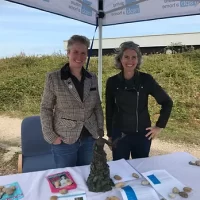 If we want the next generation to cherish nature and to safeguard biodiversity, we need to engage young minds and hearts – through telling stories. This statue will contain a multitude of stories and species, drawing the viewer back again and again. Eve's proposed use of augmented reality technology to enhance interpretation will bring an exciting extra dimension.
We couldn't be more thrilled with the public's choice of statue to stand in Fletcher Moss Park, Emily Williamson's garden.
BBC News from 13 November 2021
Emily Williamson: Winning statue design of RSPB founder revealed
13 November 2021
The design shows Emily Williamson watching a bird take flight
The winning design for a statue of RSPB founder Emily Williamson has been revealed.
The campaigner set up the organisation – now the UK's largest nature conservation charity – in 1889.
A spokeswoman for the statue project said it hoped it would highlight her legacy, even though "history books had not acknowledged her role".
The artwork, which depicts her watching a bird take flight, will be unveiled at her former Manchester home in 2023.
Emily Williamson started the Society for the Protection of Birds in 1889
Born in 1855, the nature lover set up the Society for the Protection of Birds after being appalled by the slaughter of birds for fashion in the 19th Century.
Now known as the RSPB, the charity said her all-women movement was "born out of frustration that the male-only British Ornithologists Union was not acting on the issue".
In 1921, a law was introduced that banned the importation of exotic feathers and led to many species avoiding extinction.
A spokeswoman for the Emily Williamson Statue Campaign said plans for her statue began in 2019 "with the shock that the history books had not acknowledged her role in founding the RSPB and then the realisation that her powerful legacy could inspire action and activism today".
The statue is due to be unveiled in Fletcher Moss Park in 2023
About 12,000 people voted after four shortlisted designs were shown at RSPB reserves, before the winner was announced at Manchester Art Gallery.
The sculpture, designed by Eve Shepherd, also shows Mrs Williamson holding a copy of the 1921 act.
Emily died in 1936.
The statue will be unveiled near her former home in Didsbury's Fletcher Moss Park on the anniversary of her birth on 17 April 2023.